Thor Love and Thunder Movie: A Complete Waste of Time is a  very long, tedious, and awkward film that runs out of steam pretty quickly. To say that Thor Love and Thunder Movie is entertaining in the same vein as finding your disrespecting boss a great person just because their constant humiliation and petty insults are thrown at you is better than those dreadful thoughts you were having when contemplating suicide a couple of weeks ago wouldn't be too far from the truth!!
Criticism
Poorly paced, downright unfunny and a poor plot render this sequel as joyless as possible with Christian Bale the sole survivor and entertainer, whose impeccable performance is both heart-wrenching and fearsome which is a shame because he is easily one of the best MCU villains drowning in a sea of underwhelming choices.
So, It is not that the film doesn't have any ambition or that it doesn't succeed in certain scenes. Love and Thunder deals with deep and complex subjects such as the grief and pain of the person who's fighting an inevitable losing battle against a sickness that isn't going anywhere unless it beats you down, finding your own place in the world even if the universe demands something else from you, raising questions about your faith, ultimately wanting love because well who doesn't want to be loved.
Significant Problem
The most significant problem with this film is its tone. One second it's a serious piece about Gorr's vow to renounce his faith in all gods and to kill them because they are all false. This is juxtaposed with screaming goats, awkward idiotic Thor jokes, and a punch line every second to undercut any seriousness that might pop up.
The action is bland, the music forgettable, and the new places and locations like the god palace where all the gods assemble barely offer anything that can resemble a spectacle. Even if the film tries to pull off the big WoW! moments like Ragnarok it just falls flat, like really flat. The awkward shifts from romance to comedy to depressingly serious are handled poorly even if Jane Foster has a better arc in this one than one might expect.
As far as the characters go, Thor is now the butt of all jokes and can barely make through a scene without making punchlines to keep everyone laughing. Which just increases the annoyance to new levels.
So, The film needlessly provides us flashbacks of previous Thor films which no one needs. Valkyrie is in the background and remains so. Apart from one conversation which reveals that she is a lesbian. Yep, that's all she gives to the film.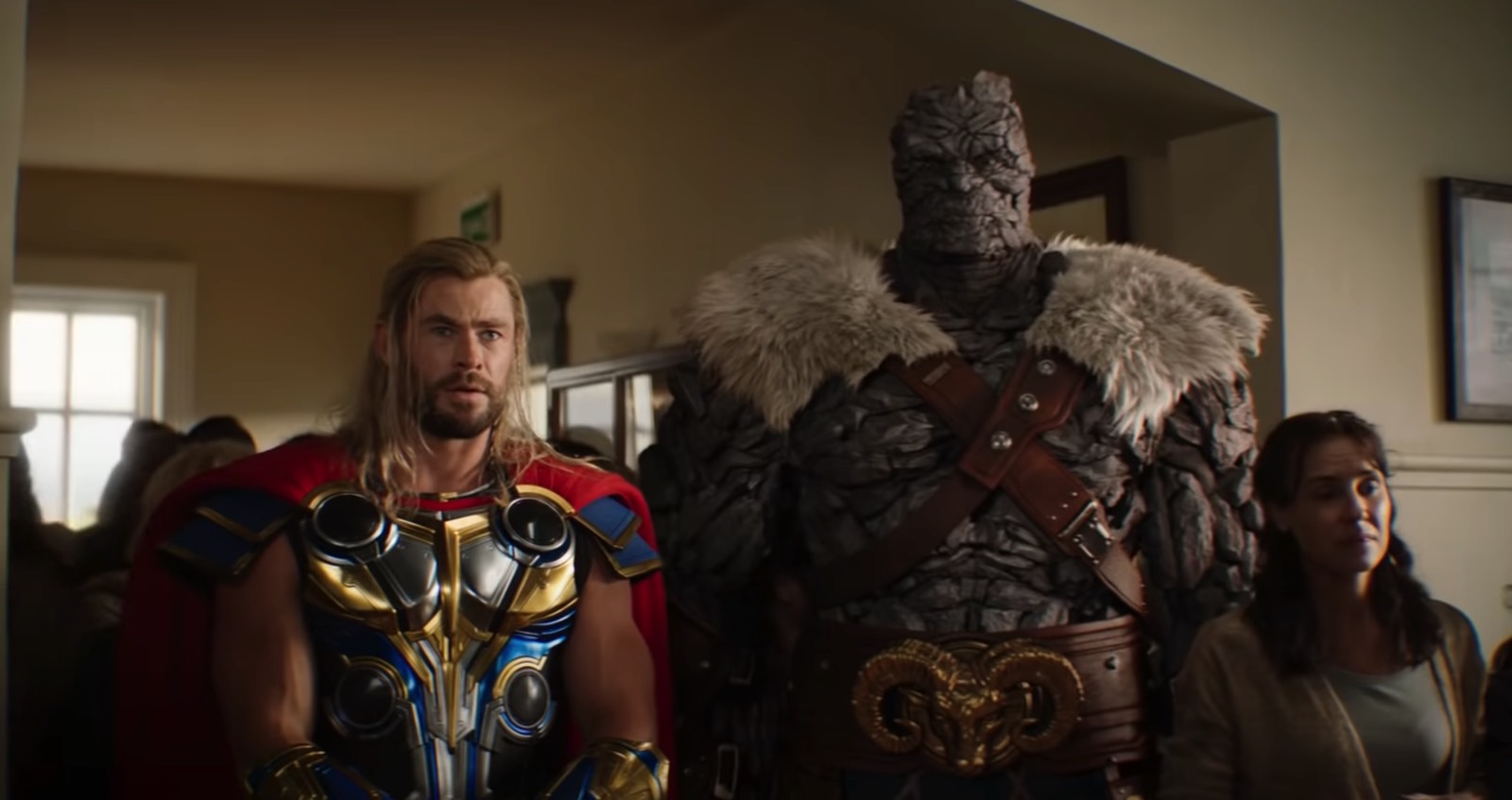 characters
Jane Foster is given a good arc in theory but the execution is messy at best with jokes and awkward shifts in tone certainly not helping to display the struggle that her character is going through with which the viewer hopes to connect. Korg is there to make more jokes as if we didn't have enough.  The guardians just have a cameo.
The finale looks good, and visually strong but apart from Bale stealing every second and clearly putting these actors in their place there isn't anything to root for.
The romance is dragged on and feels tedious and boring, so when the final fight commences you end up not caring for the heroes but hoping the villain might pull off a Thanos. There is a big sacrifice made in the end which definitely made it better only for the post-credit scene to undermine it pretty badly.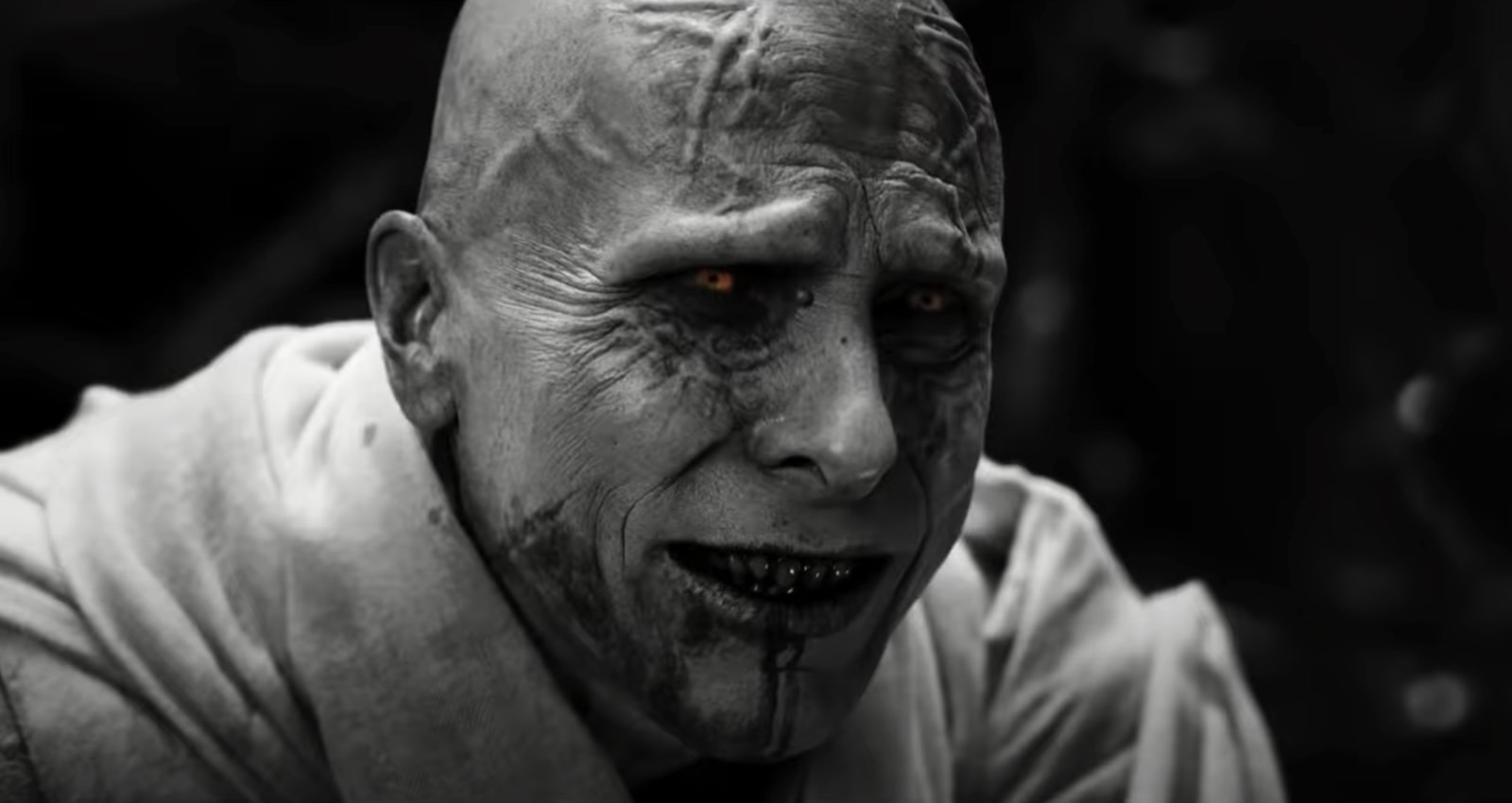 Love And Thunder
Overall Love And Thunder is a tedious and pointless piece of film that certain viewers are describing to be "completely different from Ragnarok" " It has deep themes so I liked it!!" It doesn't matter what themes are there… what really matters is the execution and presentation of those said themes both of which Love and Thunder don't bring to the table.