Sports
Tennis
Tokyo Olympics
TOP NEWS UPDATES
Sania Mirza and Ankita Raina were eliminated in the first round of the Tokyo Olympics on July 25.
PV Sindhu, the 2016 Olympic silver medalist, wins her opening group J match in just 28 minutes against Ksenia Polikarpova 21-7, 21-10.
Live Update of Tokyo Olympics 2020 Day 2: Mirza/Raina loses to Ukraine pair 6-0, 6-7 (0-6), 8-10
09.35 AM: Shooting: 10m Air Rifle men's qualification event has begun. India's Divyansh Singh Panwar and Deepak Kumar are participating in the event.
09:14 AM: (Tennis) Sania Mirza-Ankita Raina make a first-round exit to Ukraine's Liudmyla Kichenok and Nadiia Kichenok as they lost the 3rd set first-to-10 tiebreaker set 10-8, after winning the first set 6-0. The final score reads 6-0, 7-6 (6-0), 10-8 in Ukraine's favour.
09:11 AM: (Shooting) STAY TUNED! Indian rifle shooters Deepak Kumar and Divyansh Singh Panwar will be in action at 9:30 PM during the 10m air rifle men's qualification round.
09:08 AM: (Sailing) India's Nethra Kumanan is currently in action during the race 1 of Womne's Laser Radical Round 1. She is currently down at the 40th spot.
09:01 AM: The match heads into the third set after the Ukrainians win the tiebreaker 6-0.
08:56 AM: The second set heads into a tiebreaker after the Ukraine pair levelled it at 6-6.
08.48 AM: Tennis: And the Ukrainian duo holds! 5-5 in the second set. This is tremendous recovery from Kichenok/Kichenok after being bageled in the first set.
08.41 AM: Tennis: Kichenok/Kichenok have broken the Indian pair! Can they hold serve? Mirza/Raina leading 5-4 in the second set.
08.38 AM: Tennis: Mirza/Raina to serve for the match. They lead 6-0 5-3.
08.30 AM: Tennis: Mirza/Raina have broke the Ukrainian pair to lead 4-2 in the second set. The Kichenok sisters made a good start to the second set but the frequency of unforced errors is costing them.
08.16 AM: Tennis: The Ukrainian twins finally win the first game of their match against Mirza/Raina. The Indian pair leads 1-2 in the second set.
08.10 AM: Artistic Gymnastics: Pranati Nayak has finished 12th in the Subdivision 1 (All-Round Results) with a total score of 42.565 (13.466 in vault, 9.033 in uneven bars, 9.433 in balance beams and 10.633 in floor). She needs to be in the top-24 in the all-round results after events take place in all the four Subdivisions.
08.01 AM: Tennis: Mirza/Raina hardly break a sweat as they sweep the first set 6-0 against the Kichenok twins. Strong start by the Indian pair who broke the Ukrainians thrice in the opening set.
07.53 AM: Tennis: Mirza/Raina break Ukraine's pair of Liudmula Kichenok and Nadiia Kichenok twice in the first set. Lead 4-0 now.
07:45 AM: Sania-Ankita holds their serve to take 1-0 lead in first of best-of-three sets.
07:42 AM: (Tennis) Sania Mirza-Ankita Raina vs Ukraine match gets underway at Court 11 of Ariake Tennis Court.
07.40 AM: A cakewalk for Sindhu in the first match of Group J. She meets Hong Kong's Cheung Ngan Yi in her second and final group game.
07:37 AM: Sindhu wins her first group J match against Ksenia Polikarpova 21-7, 21-10 in just 28 minutes.
07:33 AM: Sindhu now just five points away from the win as she leads the second game 16-5.
07:30 AM: (Badminton) Sindhu heads into the small break with 11-4 lead.
07:28 AM: (Badminton) Sindhu is breaking no sweat as she has already taken a 10-3 lead in the second game.
07:25 AM: (Tennis) Sania Mirza and Ankita Raina are scheduled to play their first round of women's doubles against Ukraine's Liudmyla Kichenok and Nadiia Kichenok at 7:30 am
07:23 AM: (Badminton) Sindhu clinches the first game 21-7 in just 13 minutes.
07:21 AM: (Shooting) Mairaj Khan (total 25) finishes joint leader after the first of the five rounds in men's individual skeet shooting. Bajwa is down at 20th spot with a total of 24.
07:20 AM: Sindhu is really growing on to her opponent as she is picking points at ease while Sindhu is consistently attacking her Greek opponent's weaker right-side. The scoreline reads 17-5.
07:17 AM: Sindhu builds a substantial gap of 11-5 before a short break.
07:14 AM: Sindhu takes 5-4 lead in the first game.
07:07 AM: (Badminton) PV Sindhu is on the court and ready to take on Greece's Ksenia Polikarpova in the Women's singles group play stage. The match begins at 7:10 AM. The 2016 Olympic silver medallist will be hoping to change the colour of her medal for good at this Olympics with the champion Carolina Marin not competing due to serious injury. However, the competition is still stiff with the likes of Tai Tzu Ying, Nozumi Okuhara, Chen Yufei among others.
07:03 AM: Only six out of 30-competing shooters will reach the final.
06:58 AM: During the qualification round every athlete has to shoot 125 targets, divided into five rounds of 25 targets each. Also, during the qualification round, shooters are grouped in squads of five or six athletes, who shoot from station number 1, 2, 3, 4, 5, 6, 7 and 8 rotating from left to right and shooting single or double targets according to a fixed scheme.
06:56 AM: (Skeet Shooting) As Round 1 of Skeet shooting progresses, both Angad and Mairaj have led the leaderboards but early days in the event.
06:51 AM: First good news of the day! Indian rowers Arun Lal Jat and Arvind Singh have qualified for the semi-finals of Lightweight Men's Double repechage round.
06:47 AM: Meanwhile Angad Bajwa and Mairaj Khan are already competing at the men's individual skeet shooting. Stay tuned for live action from the event!
06:45 AM: SIGH! Manu Bhaker and Yashaswani Deswal couldn't make it to the final of the women's individual 10m air pistol event as they finish 12th and 13th respectively! Not a great start of the day for India.
06:41 AM: Bhaker has three shots left and is currently at the 9th spot! Must hit all 10s now if she wants to keep her hopes alive.
06:40 AM: Yashaswani is off to a strong series 6 with four of her five shots as 10s but at 13, things are looking bleak. 
06:38 AM: Bhaker produces a remarkable 98 in series 5; takes her to 11th place. A similar performance in final series could seal her final qualification. fingers crossed!
06:33 AM: Yashaswani climbs to 14th at the end of series 5 with her last two series earning her 96 and 97 respectively (out of possible 100).
06:25 AM: With just 17 of her 60 shots left, Yashaswani has dropped to the 18th spot. She must shoot a string of 10s from here if she wants a place in the final. Same is crucial for Manu, who has now dropped to 16th but has 23 shots left.
06:23 AM: Manu is struggling a bit with consistency as four of her last five shots in series 3 were 9s! However she quickly got herself into top 10 with two 10s at the start of series 4.
06:21 AM: Both Indians are now in the top 15 now with Bhaker at 12th spot and Yashaswani at 13th after the latter had six out of seven shots in series 4 fetching 10s.
06:18 AM: A glance at Yashaswani Deswal's detailed performance so far.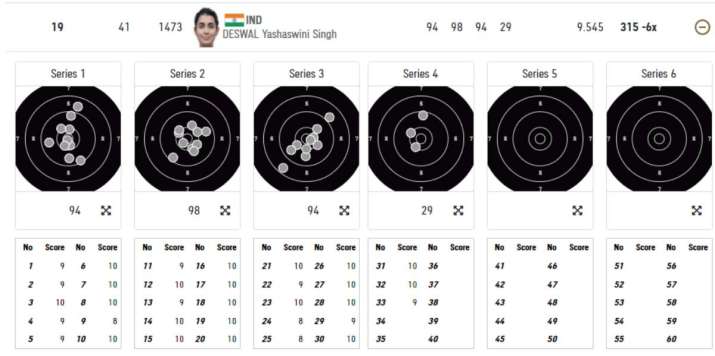 Image Source : TOKYO OLYMPICS
A detailed view of Yashaswani Deswal performance at the end of series 3.
06:16 AM: Reports have surfaced that the reason Manu took a break midway series 2 was she had a problem with her pistol. Fans would be having it's nothing serious and her performance suggests everything's fine now as she is shooting a flurry of 10s.
06:15 AM: Yashaswani has finished her series 3 and is currently 19th with a total of 296!
06:14 AM: With some quick shots, Bhaker has shot herself to the 8th spot with four 10s in series 2 and an unfamiliar 8!
06:12 AM: Bhaker finishes series 2 with 95 points and drops to 13th spot; her total now is 193.
06:04 AM: A glance at Manu Bhaker performance so far.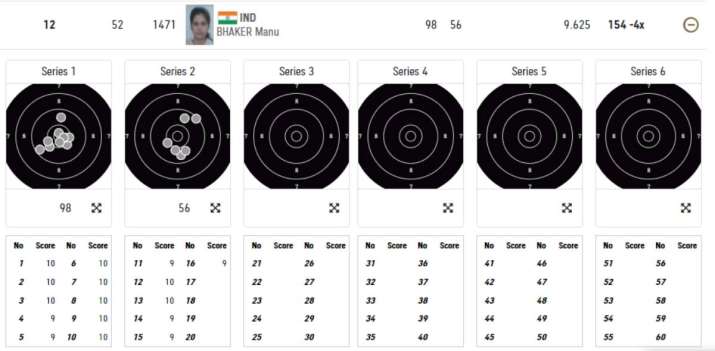 Image Source : TOKYO OLYMPICS
Manu Bhaker performance so far.
05:56 AM: Yashaswini is finding it hard to maintain consistency too as after getting 94 in series 1, she shot 2 10s, squeezed between two 9s in series 2; dropping her to 28th place.
05:54 AM: Manu drops to 13th midway her series 2 with just two 10s in the six shots she took in the series; rest fetching just 9s. Her total at the moment is 154.
05:52 AM: Meanwhile Yashawani takes the inroad to 25th position as so far as she recovered with 7 10s out of her 14 shots (rest fetching 9s)
05:47 AM: Manu is actually tied at the top with Latvia's Agate Rasmane, who leads by the virtue of more shots in the innermost circle.
05:45 AM: BULLSEYE! Bhaker climbs to 3rd after five of her last shots in the series 1 are a perfect 10; taking her total at the end of the first series at 98.
05:39 AM: Yashaswani is currently struggling at 41st place with just one shot on 10 among her first five shots; remaining on the third innermost circle as 9 pointers.
05:38 AM: After the first five shots in series 1 (10 shots), Manu Bhaker has accumulated 48 points (out of 50) with her last two shots fetching 9 after three 10s on the trot. She is currently placed 9th in the leaderboard.
05:37 AM: To rejig reader's memory on the rules, out of the competing 53 shooters, only eight will qualify for the finals with each shooter getting to shoot 60 shots over 6 series with max point available per shoot is 10.
05:34 AM: Yashaswani Deswal begins her with a 9.
05:33 AM: Bhaker is off to a perfect start as she shoots 10 in her first of the 60 shots in the qualification round
05:25 AM: Earlier on Day 1 in shooting, India's brightest hopes in pistol events in Saurabh Chaudhury returned empty hand in the men's 10m air pistol individual event after he finished seventh in the final. He did stir hopes when he finished third in the qualification round and had an impressive run of 16 perfect 10 shots at the target.
05:23 AM: Manu Bhaker has been among India's biggest hopes from the shooting contingent at the Olympics after the teenage shooter shot to fame three years ago at the 2018 Commonwealth Games.
05:18 AM: All eyes will be on nine-time World Cup gold medallist and 2018 CWG champion Manu Bhaker for the women's individual 10m air pistol final qualification event. Also, there will be hopes from three-time World Cup gold medallist Yashaswani Deshwal.
05:14 AM: Full schedule of India from Day 2 with action beginning shortly in women's individual 10m air pistol final qualification event from 5:30 AM.
05:07 AM: Welcome to the live blog of the 2020 Tokyo Olympics. After the highs of Day 1 where Mirabai Chanu opened India's medal account with a silver, there's plenty of action in store from Day 2 for India with medal hopes in multiple shooting events and some big names from other disciplines in action as well. Stay tuned as we will share the entire Indian schedule from Day 2 soon.
With stars like PV Sindhu, MC Mary Kom, Manu Bhaker, Sania Mirza-Ankita Raina, Maana Patel and Manika Batra in action on the second day of the Olympics, Indian fans will pin their hopes on female athletes to clinch silverware in Tokyo, especially after witnessing Mirabai Chanu's exuberance on the previous day.
After the shooting contingent's disappointing start on Saturday, Indian fans finally had something to cheer about. Chanu ended India's 21-year-long wait by clinching the nation's first Olympics silver medal in weightlifting. Mirabai exorcised the ghost of the 2016 Rio Olympics by bagging India's second medal in the sport after Karnam Malleswari's bronze at the 2000 Sydney Olympics.
The 26-year-old lifted 87kg in snatch and 115kg in the clean and jerk event to score a total of 202 during the 49kg category final to etch her name on the record books. Tennis star Sumit Nagal also had an impressive outing in his opener. He became only the third Indian to win a men's singles match at an Olympics edition and the first in 25 years.
The Indian men's hockey team also recorded a 3-2 win against New Zealand to start their campaign on a high. The women's team, however, suffered a crushing 1-5 defeat against the Netherlands.
Boxer Vikas Krishan and judoka Shushila Devi had forgettable outings as they bowed out in their opening round clashes. Pistol marksman Saurabh Chaudhary and rifle ace Elavenil Valarivan also missed out on the opportunity to bag top honours in Tokyo.
Sharath Kamal-Manika Batra pair crashed out of table tennis mixed doubles but Chirag Shetty and Satwiksairaj Rankireddy left a mark by stunning Chinese Taipei pair of Lee Yang and Wang Chi-lin. Paddlers Batra and Sutirtha Mukherjee also made promising starts to their women's singles campaign.