Johannesburg: A total of 10 people have died while 757 have been arrested following violent protests in KwaZulu-Natal and Gauteng Province, said South African Police Minister Bheki Cele on Tuesday.
Cele made the remarks while briefing the media on how the the Justice, Crime Prevention and Security Cluster (JCPS) intend to contain the protests.
"Our latest reports indicate that a total of 757 people have been arrested. In KwaZulu-Natal a total of 304 and in Gauteng 453 were arrested," he said.
"The total number of fatalities that has been reported is 10, with four in KZN and six in GP," said Cele, adding that "furthermore, four police officers were injured while responding to these violent protests and are recovering well."
Cele called on the people to respect the law, warning that those inciting violence would be arrested.
"We also issue a stern warning to those circulating inflammatory messages on various social media platforms which are aimed at inciting violence and disregard of the law. As the Cluster we are monitoring all social media platforms and we are tracking those who are sharing false information and calling for civil disobedience," he said.
The National Prosecuting Authority (NPA) said the violence is criminal.
The NPA spokesperson Mthunzi Mhaga said the NPA will uphold the rule of law by ensuring that justice is delivered without fear, favour or prejudice.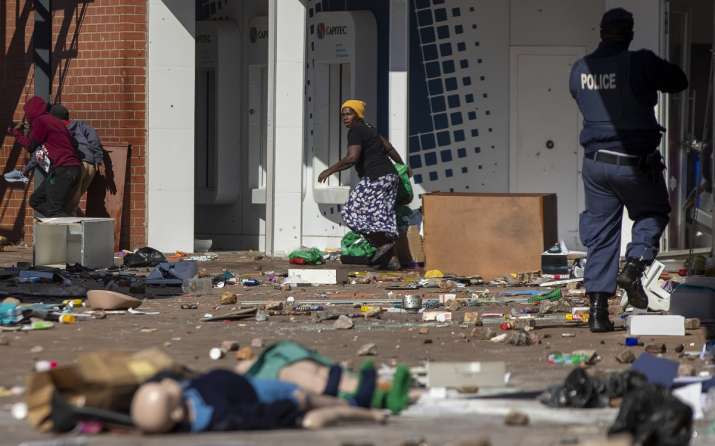 People run for cover whilst police officer fire rubber bullets as they attempt looting at Letsoho Shopping Centre in Katlehong, east of Johannesburg, South Africa.
The South African National Defence Force has been deployed to help the police.
At least 10 people have been killed and more than 490 arrested "in acts of public violence rarely seen in the history of our democracy," Ramaphosa said.
Without once mentioning Zuma, Ramaphosa said that the "violence may indeed have its roots in the pronouncements and activities of individuals with a political purpose, and in expressions of frustration and anger … However, what we are witnessing now are opportunistic acts of criminality, with groups of people instigating chaos merely as a cover for looting and theft."
He said the root cause of the rioting is South Africa's high rate of poverty and unemployment.
"This moment has thrown into stark relief what we already knew: that the level of unemployment, poverty and inequality in our society is unsustainable," Ramaphosa said. "We cannot expect a lasting and durable peace if we do not create jobs and build a more just and equitable society in which all South Africans can participate freely and equally."
He urged all South Africans to refrain from violence.